Getting hurt in a car accident can throw your life into chaos. As you manage your growing pile of bills while attending doctor's appointments, you're also dealing with your family's grief, fear, and losses. It should come as no surprise that gathering evidence and improving your personal injury case aren't your top priorities.
If you wait too long, it is more likely that your evidence will disappear, reducing your chances of getting fair compensation for your injuries. In the aftermath of an accident, physical evidence is often crucial to determining fault. Negotiations and trials place a higher value on tangible objects than on testimony, which, in the best of situations, is notoriously unreliable and only gets less dependable over time. A properly documented and saved piece of physical evidence will not disappear, and it will provide objective evidence of the extent of the damage and can be used to establish fault. In addition to the dented car door or broken bike frame, victims will also want to preserve a picture of the road conditions at the time of the accident. For more information and tips on collecting important evidence from your accident, continue reading below.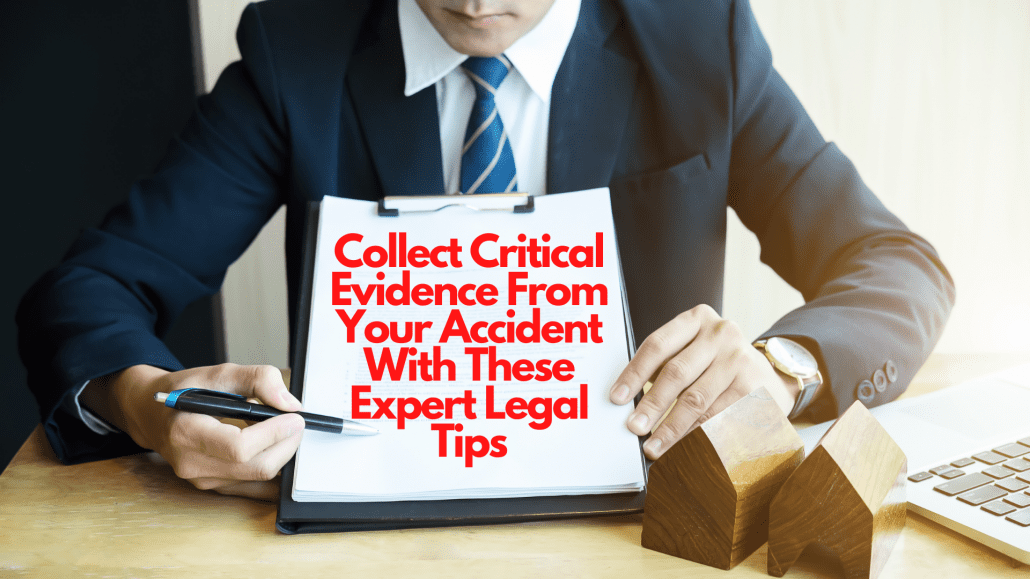 How Does Evidence Affect the Case?
Getting the right result quickly after an accident depends on evidence. In some cases, it can even prevent you from going to trial. You're more likely to get a fair settlement before trial if the other party acknowledges that you have a strong case. It's possible that they will decide to roll the dice if they are not convinced you have built the evidence in your case in hopes of confusing the jury and paying you less than you deserve. You can preserve evidence in your Florida car accident claim with these tips:
Write Down What Occurred: Your memory might be clear after an injury occurs. The details of something so meaningful can fade over time, even if you think you will never forget them. Moreover, you may find that an aspect you initially didn't consider important ends up being crucial. Whenever you can, make sure to jot down all the details that come to mind. In order to build a meaningful case, your attorney will use the details of this account.
Journal Your Injuries: After an injury, keeping track of medical appointments and bills can be a challenge. Your treatment plan, and your progress must be documented. Record your appointments, expenses, and pain levels in a journal. Be sure to keep a copy of every medical bill and benefit explanation. Don't exaggerate your injuries or pain, but be forthcoming. You may need to keep this record in order to put together your case later.
Don't Wait: You lose evidence when you lose time. Even a short time from now, the accident scene may look very different. Often parties may want to change things quickly to hide valuable evidence. There is the possibility of witnesses moving away or forgetting crucial information. There are even time limits for pursuing your injury losses claim.
You should start gathering evidence immediately for all of these reasons. The more evidence you can collect right away, the stronger your case will be. There is no such thing as too much evidence, and your attorney can explain how to gather the evidence necessary to support your claim.
Types of Evidence for Car Accident Claims
You will certainly want to seek compensation for injuries caused by negligence in a car accident. However, as a plaintiff, it is your responsibility to prove your case in a car accident case.
This means that you must prove all instances of negligence beyond a reasonable doubt. Therefore, you must prove that the at-fault party injured you because of their negligence rather than an underlying condition at the time of the crash. The following are the types of evidence needed for your car accident claim:
Photos and Videos: Probably the most important type of evidence for car accident claims is surveillance video and photographs of the accident scene. Using photos or videos will help you illustrate multiple details of the crash, like what caused the accident, who was to blame, conditions of the road, who was involved, etc. Therefore, you should take as many pictures of the accident as possible when it occurs. You should try to take photos and videos of virtually everything, from the state of the road and nearby traffic signs to vehicle damage and your injuries. Photos and videos, along with other types of evidence, will be crucial in your efforts to prove that the other driver breached their duty of care.
Medical Records and Payment Statements: When it comes to proving your car accident case, medical records are vital. In any case, you must seek medical attention immediately following an accident, whether you have visible injuries or not. Be sure to record all the information associated with your medical appointments. Among these will be details about how you were treated, who you saw, and how much you paid (if any costs). Your medical records must also be provided to you upon completion of treatment. Diagnostic images such as MRIs and X-rays should be included. Also, gather all medical bills from every healthcare provider and receipts for medicines. The right medical records will show the extent of your injuries as well as the associated medical costs, thus justifying your settlement request and proving your losses.
Witnesses and/or Driver Statements: In a car accident claim, witness statements usually prove to be the most reliable evidence. These images serve the same purpose as photos in clarifying who is at fault. Therefore, you must obtain the names and contact information of all witnesses if you are able to do so. A witness can provide valuable details about what took place before and after the accident, thereby revealing how the other driver contributed to it. An experienced Florida car accident attorney may also be able to locate expert witnesses if necessary. These individuals often play a critical role in proving the legitimacy of your injury lawsuit by reconstructing the accident.
Police Reports and Other Official Reports: Immediately following a car accident, you should call the police. The law in Florida still requires you to report an auto accident, even if no one shows up, particularly if people are injured or property is damaged. Police reports must be acquired whether you file the report yourself or if they are called to the accident scene. Despite the fact that police reports may not be admissible in court (because of hearsay laws), they may be pertinent during a settlement negotiation. Moreover, it contains important information about witnesses, the officer's conclusions regarding traffic violations, speeds, roads, etc. All of these can be useful in proving fault.
Surveillance Footage: Traffic cameras can be installed in nearby buildings, stores, gas stations, and offices. When you know exactly where the accident that caused your injuries took place, you may be able to obtain surveillance footage to prove the other party was at fault. You should also keep in mind that this type of evidence must be obtained legally, a reputable Florida car accident attorney will be able to assist you.
Vehicle Debris and Wreckage: When examining wreckage, you can establish various facts such as speed and direction of the oncoming vehicle(s). There may also be shredded tires or broken brake lines that indicate the manufacturer may be at fault. Ensure all wreckage and debris are secured, and hire an experienced car accident attorney to evaluate the evidence.
How a Car Accident Attorney Can Save Evidence
The best way to ensure all the evidence that will help you build your case is to hire an experienced car accident lawyer. With the help of a skilled attorney, evidence that would have otherwise been lost quickly can be preserved and documented using procedures that require extensive knowledge and expertise.
An attorney may use the following strategies to preserve evidence in an injury case:
Recover Surveillance Footage. As mentioned earlier, surveillance footage must be obtained legally. Your attorney may be able to request and recover any footage from a surveillance camera before it is erased.
Open Records Act. Through the Open Records Act, any intersection with traffic cameras can provide footage to victims of accidents. While your lawyer is negotiating the red tape involved in recovering the footage, you can focus on your healing.
Send an Anti-Spoliation Letter: Evidence that is damaged during a personal injury case needs to remain intact as evidence. An attorney can write a letter of anti-spoliation ordering the object in question to be preserved. A letter such as this should be hand-delivered or sent in a way that provides proof of delivery.
Contact Calandro Law in Riverview Florida
Whether you have suffered due to another's negligence or just need help gathering evidence and demanding fair compensation, Calandro Law can assist. As experts in collecting time-sensitive, difficult evidence, our lawyers will do whatever it takes to find out what happened to cause your injuries. Contact us here to schedule a free case evaluation.