About 130,000 people are injured in truck accidents each year. Commercial vehicles and semis often cause the worst kind of injuries because of their size, speed, and mass. They can inflict great damage to smaller passenger cars. When a collision occurs with a commercial vehicle, the passengers are usually seriously injured. These vehicles are often used to carry freight, so they are a lot larger and heavier than normal vehicles, leading to more extreme collisions.
If you have been injured in a collision with a large truck in Florida, your lawyer will make sure all steps are taken to maximize the value of your case. A victim may be entitled to compensation for medical bills, lost wages, disfigurement, disability, and pain and suffering. An attorney can help an injured client navigate the complicated process to ensure success.
Don't take on a large insurance provider or trucking company on your own. The process can be tedious and overwhelming. Our team of personal injury lawyers in Riverview, Florida has the resources and experience necessary to get you a fair settlement after you've been injured in a truck accident. In this post, we'll discuss why you need an attorney after a truck accident and what you can expect in the process.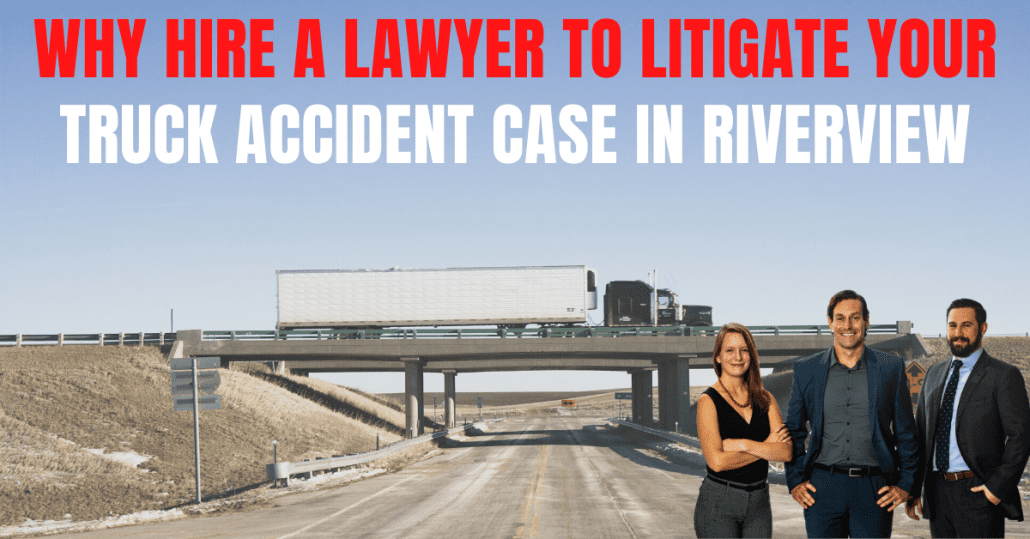 Common Causes of Truck Accidents in Florida
The circumstances under which accidents occur are rarely the same. It is impossible to predict with certainty what might cause a truck accident. Although, there are a number of common factors known to increase the risk.
Among the most common reasons for truck accidents are:
Inadequate maintenance of the truck: Trucks are easily lost in the crowd of hundreds and even thousands of fleet vehicles. Many trucks are neglected for routine maintenance and inspection by mistake. Some trucking companies may be deliberately negligent in their repairs and maintenance in an attempt to cut costs.
Defects in the mechanical system. The most common causes of truck accidents seem to be problems with the tires, wheels, and brakes.Furthermore, the more recent electronic systems incorporated into trucks are just as dangerous, along with steering wheel flaws.
Errors with drivers: Truck drivers are not without errors, just like any other driver. Driving while eating, texting, or under the influence increases the chance of a crash. Moreover, hazardous road conditions can cause unforeseen accidents.
Loading cargo improperly: The way trucks are loaded is governed by specific guidelines. During transport, these guidelines ensure the balance and safety of the materials. These regulations are often ignored by some trucking companies. Poor loading can spill cargo into roadways and/or flip an imbalanced truck.
Speed and Stopping Distance. Due to their massive weight, tractor-trailer vehicles need a greater stopping distance than regular passenger vehicles. A regular car that has just hit the brakes will not need more than 300 feet to stop, but a truck will take nearly double the feet — specifically 525 feet more. These accidents are caused by speed, mechanical readiness, as well as driver fatigue, which are all factors that contribute to stopping time.
Florida Trucking Law and Regulation
Keeping our roads safe is the primary function of the Federal Motor Carrier Safety Administration (FMCSA). They do this by enforcing a comprehensive set of rules and regulations aimed at reducing crashes, injuries, and fatalities caused by large trucks and buses. Also in our state, Florida has commercial vehicle laws enforced by the Florida Highway Patrol Office of Commercial Vehicle Enforcement (OCVE). Truckers, motor carriers, and associated vendors may be punished for negligence if they violate state or federal regulations. If the violation gives rise to a truck accident, then those parties may be held liable for their negligence.
Why You Need to Hire a Truck Accident Lawyer
It is imperative that you retain an attorney knowledgeable about trucking laws if you decide to sue the trucking company that employs the driver that caused the accident.
Although trucking companies have an enormous amount of money to pay you for your injuries, they also have a hefty legal defense budget to spare them from paying you. Without a personal injury lawyer, you are at a disadvantage in a personal injury case. The following reasons can help you understand why legal representation is necessary after a truck accident:
Finding Liable Parties. When a truck crash occurs, it becomes difficult to know who is responsible. Trucking companies or truck manufacturers, as well as government entities, can be held responsible for your injuries. The lawyer will help you determine who is responsible and also assist you in obtaining compensation within a reasonable time frame.
Initial Offer from The Insurance Company. An insurance company collects information from the involved drivers and reviews police reports as well as other evidence after an accident. After determining who is responsible for the incident and the amount that should be compensated for, the company writes you a letter offering an amount for your loss. By signing the offer letter, you give up your right to sue in relation to the accident. It is a good idea to consult a truck accident attorney before signing any papers, even if the insurance company offers a seemingly impressive amount. It is often the case that injuries take a long time to manifest, so it is wise not to settle your claim until you have recognized the scale of your injuries.
Legal Strategy. Having been involved in an accident, you might not know the best way to prep for a legal trial. A lawyer can help you get the best possible outcome by professionally analyzing your case, finding evidence and witnesses, and coming up with a clever legal strategy to receive maximum compensation.
Complex Negotiations. If you find that there were more than one parties liable for your crash, you will have to fight each party simultaneously to receive compensation. Therefore, it is essential that you hire a skilled lawyer with the skills necessary to handle cases involving multiple defendants.
Saying the Wrong Thing. Insurance companies often call you multiple times after an accident, asking you to give them more details. There can be stress in dealing with this, since you worry that you could be falsely accused of being at fault. A shrewd adjuster will take advantage of you by getting you to say the wrong thing and leaving you stunned and unaware of what just happened. You should tell anyone who calls that they should talk to your truck accident lawyer instead. If you do not have a truck accident lawyer yet, call one right away. You can relax even before your case is resolved with the assistance of a lawyer.
Litigation Process Of A Truck Accident
The trucking litigation process goes way beyond lawyers gathering evidence and arguing in court to find out who's at fault. Before a truck accident trial can begin, many steps have to be completed:
Investigation. Investigating the circumstances around the truck accident is the first, and probably most important, step. In this step, an attorney and you discuss the truck accident to learn more about the important facts of the event and decide which questions you need to ask. Legal counsel will make pointed questions aimed at getting to the bottom of the matter and determining what happened. An attorney often hires investigators to reconstruct the accident or analyze the accident photos and reports in order to determine what caused the accident.
Negotiation. In most cases, the next step is the beginning of negotiations between you and the trucker or his insurance company. The process can start even before you file a Florida truck accident lawsuit. A skilled truck accident lawyer can assist you during this step. You will benefit from your attorney's experience as they gather all evidence and present it to the truck driver's attorney. An important part of a successful settlement negotiation is telling a compelling story of how and why the accident occurred. At this stage decisions can often be made about the strength of a case and the form of a settlement.
Discovery. When a settlement cannot be reached, the next step is the filing of a truck accident lawsuit. A complaint will be prepared and filed by your lawyer with the court. Discovery begins once a complaint has been filed. At this point, you might be asked to see a doctor provided by the trucking company, you might be quizzed about the accident by the truck driver's attorney and you might even be deposed. The process can be tedious and long, but you can count on your attorney to guide you through and keep you updated.The second stage of negotiation often happens after discovery. Now that the evidence of all parties has been gathered, there is a final opportunity to avoid the trial and reach a settlement. In the absence of a settlement, the last step is the beginning of the trial. No matter how strong you think your case might be, a trial may produce unpredictable results. Selecting an experienced, skilled lawyer will give you peace of mind.
If you've recently been involved in a truck accident in Florida, let us handle your case. Calandro Law, located in Riverview, has expert personal injury attorneys that will guide you through the claim process with ease. Schedule a free consultation with us to learn how we can help you get a winning settlement.
Does This Lawyer Have the Resources to Take On My Case?
A lawsuit involving serious or catastrophic personal injuries can be very expensive. As an example, trucking accidents may involve accident reconstruction experts and truck trucking safety experts, as well as the expert witness that will be needed to examine the nature and extent of a client's injury. The client's case can be hurt if the lawyer lacks the resources and financing to fund the case. This would cause a lawyer to cut corners. In this situation, a client could also be forced to accept a poor settlement.
You want an attorney who has the financial resources to take a case all the way to trial if need be.
Trustworthy Personal Injury Lawyers Take Cases To Court
Personal injury lawyers do not appear in court and try cases on a regular basis, contrary to popular belief. Many lawyers who call themselves "trial lawyers" or "personal injury lawyers" lack experience in jury trials. It is important to find out whether the lawyer takes on cases in court, and if so, how often. The question is an important one that many people don't even think of asking.
Law firms defending personal injury cases know which injury lawyers attempt trials and which do not. The insurance industry uses that information to assess its risks. An insurance adjuster will often ask "Who represents the plaintiff ?" when a serious claim comes in.
The key to getting the highest possible settlement is that insurers need to believe the lawyer you choose is prepared, willing, and able to continue the case to court. You need to evaluate whether an attorney constantly settles without ever going to court. If so, you can expect a lowballed settlement.
Calandro Law Personal Injury Lawyers
Andrew J. Calandro is named among the 5% of Florida's Super Lawyers. He's a top-rated personal injury lawyer located in Riverview, Florida, and provides legal services for a variety of different case types. Andrew Calandro has also been selected to Rising Stars for 2021.
Schedule a free consultation today by calling us at (813) 563-6463 or filling out the form on the right side of the page.