Any driver in Florida should know that they need to watch out for motorcyclists when they are on the road. A motorcyclist should also be practicing safe driving habits in order to protect themselves as well. Riding a motorcycle Is an inherently exhilarating experience, but that aspect also makes it that much more dangerous. With this blog post, our hope is that we can share some information that could help make our roads in Riverview and the rest of Florida a little safer for everyone. That education starts with covering the most common causes of crashes between motorcycles and cars.
Issues can arise quickly when car drivers fail to account for motorcyclists and when drivers of any vehicle indulge in reckless, impatient driving behaviors. If you have been injured in a car accident or while you were on a motorcycle in Riverview, then you should consider contacting the personal injury lawyers at Calandra Law.  Our attorneys are highly experienced with these types of cases and are ready to help.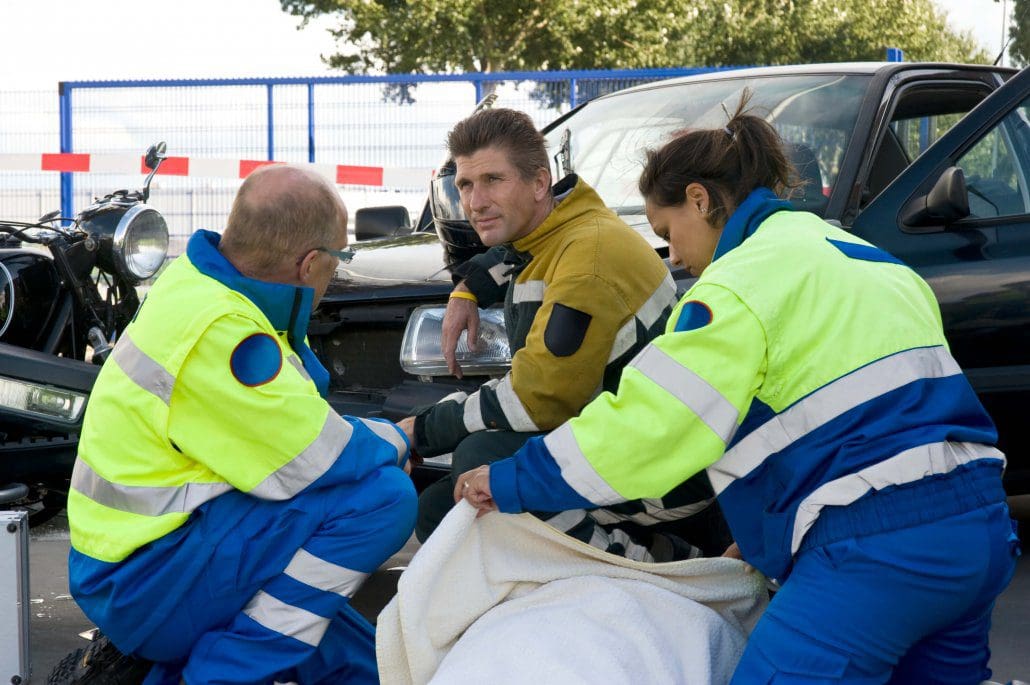 Accidents Are Serious, Especially for Motorcyclists
Do you know that over 5,000 motorcycle riders are killed each year in accidents? it should come as no surprise that a motorcyclist is less likely to survive an accident than someone in a car. In fact, the fatality rate is 27 times higher for someone who is involved in a motorcycle accident. With even more ways for drivers to be distracted while on the road, it has become extremely dangerous for the average motorcyclist in Riverview and the rest of Florida.
Even if a motorcyclist survives an accident, they are often left with lifelong injuries that could include:
Paralysis
Amputation or other forms of disfigurement
Traumatic brain injuries
Coma
Motorcycle riders in Florida should note that many of these accidents are often caused by at-fault drivers. Hopefully, this blog post can help both drivers and motorcyclists be a little safer on the road in 2022.
Drivers Are More Distracted Than Ever in Florida
This probably should not come as much a surprise either, but there are a lot of drivers on the road nowadays that are dangerously distracted. This is one of the most common causes of car accidents involving motorcycles in Florida. While smartphones may have made our lives easier in a variety of ways, they also made our lives on the road much, much more dangerous.
Distracted drivers aren't only a danger for themselves and their passengers, but also for anybody that is on or near the road that they are traveling on.  Many of the recorded deaths due to distracted drivers in Florida also involve pedestrians and bikers in addition to motorcycle riders. 
Distracted Driving Isn't Only Caused By Cell Phones
Our society's growing dependence on smartphones and other devices is a really easy factor to point to when it comes to the increase in distracted driving accidents. However, it is not the only cause of distracted driving and we would like to note some of the other factors that can distract the driver and cause a dangerous or deadly accident in Florida.
These other distractions include:
Conversations with passengers
Eating or drinking while driving
Attempting to put on makeup while driving
Paying more attention to the built in GPS
The average human being's life has become more complex, the reality is that there are just more ways than ever for the average driver to be more distracted. Our society has become more used to having access to motor vehicles, and this has not helped us to maintain that level of presence that would traditionally be necessary to safely operate an inherently dangerous vehicle
Drivers in cars and trucks have an inherent responsibility to be aware of everyone else on the road.  this is the only reliable way to account for motorcycle riders and ensure that you aren't putting anyone at undue risk. If your mind is not on the task at hand, AKA driving, then you won't be able to accurately absorb details from your surroundings and you may end up missing that motorcycle rider in your blind spot.  
Drivers Failing to Check Their Blind Spots
If a driver in Florida fails to spot the motorcycle rider and causes an accident, then it is going to be the driver's fault (in most cases). This is because the driver when operating their vehicle has the implied obligation to be aware of everyone sharing the road with them, including motorcyclists, and to exercise the proper duty of care. What this means is that the driver should be actively scanning the road within their field of vision and accounting for the motorists in their general vicinity. 
There are plenty of drivers in Florida that spend most of their time behind the wheel with their eyes trained directly in front of them. This is a natural inclination if you are looking out for other cars and trucks that might pose a threat as they progress down the road. But this creates a serious threat for motorcyclists as they tend to be lower down and obviously smaller than the average car.
All it takes is be a brief moment of unawareness to trigger an accident that could be deadly for the motorcycle rider. Then there is also the consideration of how quickly the driver reacts to the situation. Some drivers are not able to react quickly enough in order to prevent serious damage or gas to a motorcycle rider.
Our recommendation for any driver reading this blog post is to remember the value of checking and rechecking your blind spots before you make a move in traffic. This is one of the more common areas where a motorcycle rider could enter your vicinity without you being aware of their presence until it is too late. Just be safe in this next year and make sure that you are double-checking your blind spots before you make that next move.
Failure to Yield the RIght of Way
If you were to ask one of our personal injury attorneys in Riverview, it would say that one of the other common causes of motorcycle accidents they see is drivers that failed to yield the right-of-way when they should. This is what makes intersection is one of the most dangerous places on any given road in Florida for a motorcycle rider.
This has a connecting thread to the issue with drivers not doing a good job of checking their blind spots. Drivers are often intent on trying to make that turn as quickly as possible and do not take the time to review their surroundings and identify other drivers entering or exiting the intersection before they make their move. Things get very dangerous when the driver fails to yield to a motorcycle rider when they have the right away.
The official guidance in the State of Florida is that a driver should take the time necessary to make sure that there are no oncoming motorcycles present before they decide to pull into the intersection. A motorcyclist reacting to a driver pulling out in front of them in this fashion is likely going to have to jam on their breaks which could end up causing them to get into a very bad accident. Be a responsible driver in 2022 and make sure that you take the time to review your surrounding before making a move.
More Speeders Has Created More Danger for All Drivers in Florida
Does it just seem that everyone is in more of a rush on the road these days? More speeders on the road have made our highways in Florida that much more dangerous for everyone. You may feel like you are a highly confident driver, but the act of speeding excessively will cause you to lose focus on the road. Your reaction times are also reduced when driving at high speeds.
Nearly a quarter of the auto accident deaths that occur each year are caused by excessive speeding. Speeding presents a very heightened danger for any motorcycle rider, but there are still significant risks for the average car driver as well. Remember that speeding in a situation could mean just driving too fast for the weather or road conditions, not necessarily driving over the speed limit.
Whether you are in a car or on a motorcycle, you will have less control over your vehicle when you are speeding. If something unexpected occurs, you will have less time to respond appropriately. A common event that our personal injury attorneys see is a car driver that was speeding too close to a motorcyclist and wasn't able to properly break before colliding with the motorcycle. Being in a rush is not a viable excuse for making the road more dangerous for other motorists in Florida.
Injured on a Motorcycle or in a Car? Speak With A Riverview Personal Injury Lawyer Today
The accident lawyers at Calandro Law have years of experience fighting for the rights of our clients and making sure they are awarded the compensation they need. Your initial consultation is always free and we are happy to help answer any questions you have regarding your case. Contact us today at (813) 563-6463 or fill out the form on the right side of the page for your free case evaluation.