SHOULD YOU SETTLE OR HIRE A
CAR ACCIDENT LAWYER
GET A FREE LEGAL CONSULTATION
Not sure if you need a personal injury lawyer after your car accident? Do you know what to expect if you're thinking about representing yourself?
If you've recently been in a car accident, chances are you have a thousand questions racing around your head. The biggest questions likely being "What happens next?" and "What are my legal options?"
The reality is that most serious car accident cases will require a personal injury attorney to get a generous settlement from the insurance provider. If you're in this situation, then it is in your best interest to seek legal guidance. It never hurts to get advice from car accident lawyers who have experience securing the compensation their clients deserve. Calandro Law offers FREE case evaluations, so there's no reason not to take this opportunity to speak with one of our personal injury lawyers.
Sometimes it's not always clear when to hire a lawyer. Maybe your accident was a fender bender and you walked away with little to no injuries? What if the accident occurs in a "No-Fault" state? The answers to these questions will affect how you proceed with your claim.
If you choose to represent yourself, it may be hard to know what a fair offer amount is and how to negotiate. Here you'll find useful information for this situation, when to settle in a car accident claim, and when you should hire a car accident attorney.
IMPORTANT FIRST STEPS AFTER A CAR ACCIDENT
DOCUMENT EVERYTHING
When the accident takes place, it is important to document everything related to the car accident. Take pictures of the scene of the accident, property damages, and any injuries if you are able to.
FILE A POLICE REPORT

Make sure to get a copy for your records.
SEEK MEDICAL ATTENTION ASAP AFTER YOUR ACCIDENT

After leaving the scene you should see a doctor as soon as possible. Adrenaline levels skyrocket during an accident and may cause you to feel no pain until later. This can hide true injuries in the beginning that can become major problems to your health. That's why it's so crucial to consult a doctor so they can determine any injures known or unknown to you.
USE ANY PERSONAL INJURY PROTECTION INSURANCE (PIP)

Use PIP to help cover medical bills, then use your health insurance. Personal injury protection is also known as "No Fault" insurance. They help cover expenses no matter who is at fault. Keep all copies of records and bills.
UNDERSTAND THE PERSONAL INJURY STATUTE OF LIMITATIONS
These vary by state. Under Florida's statute of limitations, you have four years from the date of the accident to file a lawsuit in Florida's civil courts.
All of this will set you up for success as you start the claim process and will be needed for your case evaluation with a car accident lawyer
WHAT ARE YOUR LEGAL OPTIONS IN A NO-FAULT STATE LIKE FLORIDA?
Florida is a No-Fault state which means your legal options are limited. You are not allowed to sue unless your injuries are at a severe level. This is judged by the condition of your injuries and the costs of treating them. Because you're limited in receiving damages from your personal injury protection coverage in a No-Fault claim, hiring a car accident lawyer for minor injuries may be a waste. However, if your injuries are serious and qualify outside of the "No-Fault" rule, hiring a lawyer becomes highly ideal.
PURSUING A CAR ACCIDENT CLAIM ON YOUR OWN IN FLORIDA
It is possible to represent yourself if you already have experience handling your own legal matters. However, you should consider a couple of things before deciding to go it alone:
DO YOU KNOW WHO WAS AT FAULT?

Is it clear the defendant was to blame for your accident? Maybe you have a witness or two to back up the story? If this is the case, you may be able to get a decent settlement on your own. But as far as more serious accidents go it's easy for that facts to get confused. If it's unclear who was at fault the results that follow can be a toss-up. The defense could put up more of a fight and may blame you saying you weren't paying attention. In this situation, it's worth it to hire a car accident lawyer.
HOW BAD WAS YOUR ACCIDENT?
If you were in a car accident with very minor injuries and minimal damage, filing a claim with your insurance or the other person's should suffice. For minor accidents, this should cover car repairs and medical expenses.
But what if you were severely injured?
The stakes are higher for all parties involved if you've been in a major car accident and had costly medical treatment. Usually, the defendant (who is more than likely the other person's insurance company) will fight tooth and nail to refrain from paying out a large amount.
This would be a good reason to speak with an experienced personal injury attorney. Based on a 1999 study by the Insurance Research Council, represented plaintiffs on average receive settlements that are 3 ½ times larger than those without legal assistance.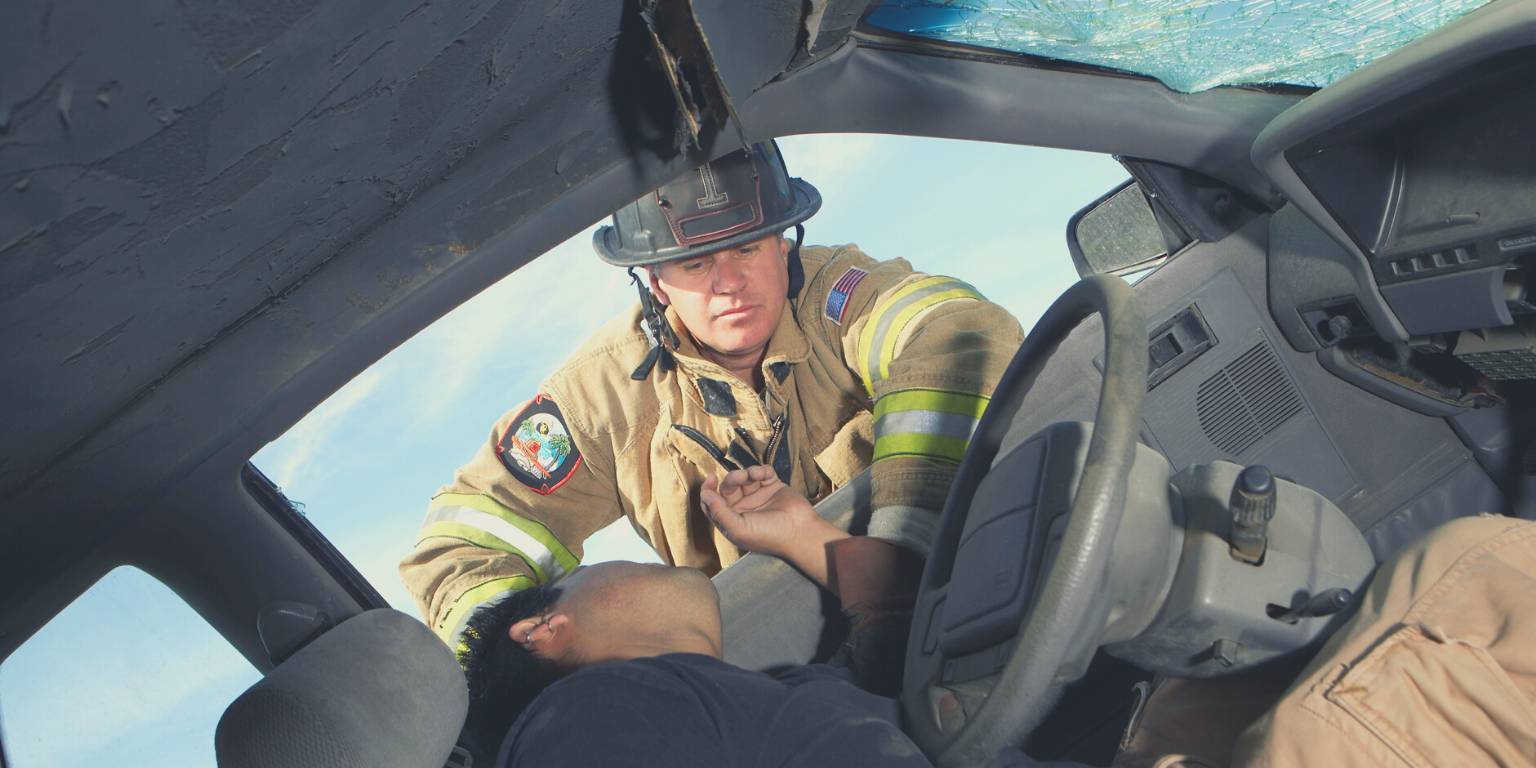 NEGOTIATING AND ACCEPTING A SETTLEMENT

Never negotiated before? Here's what you can expect:
LOW INITIAL OFFER
The insurance adjuster will most likely low-ball you at the beginning of a negotiation. A good rule of thumb when negotiating is to always air on the higher side, that way you'll have enough room to negotiate later. Carefully consider their counter-offer then decide if you want to accept.
MISSING "PAIN AND SUFFERING" DAMAGES
Pain, suffering, and emotional distress damages would be brought up in court if your case goes that far. A settlement offered that doesn't include these damages would be insufficient. If you hire a lawyer, they could explain these damages and what you may be entitled to beforehand, even if you think your injuries are minor.
YOUR CLAIM COULD GO TO COURT
You may be hesitant to settle your claim. If you don't there is a risk, it goes to court. This would leave the decision to a jury that may decide in favor of the defendant and give you nothing. You should consider this when evaluating the settlement amount offered. It should compensate for that risk. Also, if you settle out of court this means you would be paid out quickly and avoid large dispute costs and court appearance dates.
WHY YOU SHOULD HIRE A CAR ACCIDENT LAWYER

If you have serious and/or long-term injuries, you will most certainly require a lawyer. There are several benefits that make hiring a lawyer in your situation the better choice:
YOU'LL HAVE A PROFESSIONAL REPRESENTING YOU
Someone who is experienced in the relevant laws and procedures that may affect your case.
A CAR ACCIDENT LAWYER CAN ADVISE YOU BASED ON THEIR KNOWLEDGE OF THE LAW
They can also advise you on time limits, file a lawsuit on your behalf, and know the best ways to lessen possible defenses from the other side. This is all extremely helpful when going up against large insurance companies who have immense experience and resources. Lawyers are aware of Insurance company tricks and tactics, so they are better prepared to fight them.
LAWYERS HANDLE ALL OF THE HEAVY LIFTING

Negotiating an insurance settlement is time-consuming and may not be what you'd want to be doing after being in an accident.
LAWYERS ADVOCATE FOR YOU
The most beneficial reason to hire a lawyer is they act on your behalf with your best interest in mind. This means they are your champion through the entire claims process and even in court before a judge if that becomes necessary.