SHOULD YOU SETTLE OR HIRE A
MOTORCYCLE ACCIDENT ATTORNEY
GET A FREE LEGAL CONSULTATION
A motorcycle accident can be a terrifying and traumatic event. The injuries that result from motorcycle accidents are often severe and potentially life-altering. Hiring a motorcycle accident lawyer will almost certainly not be your first thought following an accident, but it is an important consideration to make.
The unfortunate reality of motorcycle accidents or other automobile accidents is that getting an appropriate settlement from insurance companies can be extremely difficult without an attorney. You may even benefit from simply having your case evaluated by a personal injury lawyer.
The good news is Calandro Law offers FREE case evaluations. If you have been involved in a motorcycle accident, our experienced attorneys can look at your accident and help you determine if you have a strong case to pursue damages.
The choice of whether or not to hire a motorcycle accident lawyer is ultimately up to you. Here we hope to offer valuable information to help you decide which option is best for your personal injury claim.
IMPORTANT FIRST STEPS AFTER A MOTORCYCLE ACCIDENT

DOCUMENT EVERYTHING
After you have been involved in a motorcycle accident, it is important to gather as much documentation about the accident as possible. Take pictures of the scene of the accident including property damage, license plate numbers for all vehicles involved, and any injuries you have suffered if possible.
You should also make sure to get the name, contact information, and insurance information of anyone else involved in the accident. If cops or paramedics are called to the scene, be sure to get their names and contact information as well. Their witness testimony of the scene may prove important if your claim goes to trial.
FILE A POLICE REPORT
Having an official police report on record can help strengthen your claim with insurance companies. You can file a report at the scene if an officer arrives in person or you can call to file a report after the accident. Many states require drivers to file police reports after an automobile accident where someone was injured or killed. And make sure to get a copy of the police report for your own records.
GET MEDICAL ATTENTION ASAP!

The health and safety of your life or any other life involved in a motorcycle accident is the number one concern after a collision. Gathering information is important, but if you or someone else is injured and in need of medical assistance be sure to call emergency services first and foremost if you are able to.
You still may have injuries you are not aware of yet even if you are able to walk away from the accident. The adrenalin rush created during an accident can mask the pain from some injuries and you may not notice these injuries till hours or days later. It is always important to seek medical attention from a doctor that specializes in diagnosing and treating motorcycle accident injuries after an accident.
BE AWARE OF FLORIDA'S STATUTE OF LIMITATIONS

The statute of limitations regarding personal injury claims in Florida is four years. This means that you have four years from the date of your accident to file a motorcycle accident claim. But keep in mind that the closer to the accident you file your claim, the better your chances of success are.
WHAT ARE YOUR LEGAL OPTIONS IN A NO-FAULT STATE LIKE FLORIDA?
Florida is a no-fault state when it comes to car accidents. This means car drivers must carry personal injury protection (PIP) insurance to protect them in the event of injury during an accident. With car accidents, drivers cannot file a lawsuit against the at-fault driver's insurance unless severe injury or death has occurred.
But what about motorcyclists?
PIP policies do not cover motorcyclists on the road. The PIP coverage that you have for your car will not pay for your medical bills or lost wages if you were injured by another driver while riding a motorcycle. Instead, you will have to file a claim with the at-fault driver's insurance company.
The good news is you do not have to meet the severe injury or death threshold to sue the at-fault driver if you were on a motorcycle. Winning a claim against another driver's insurance company can be difficult though if they decide to fight the claim. Hiring a motorcycle accident attorney from Calandro law can help ensure you get fairly compensated for your injuries.
PURSUING A MOTORCYCLE ACCIDENT CLAIM ON YOUR OWN IN FLORIDA
Florida allows individuals to file their own motorcycle accident lawsuits and to represent themselves in the claim as long as it is filed within the statute of limitations. But there are some important factors to consider before you decide to fight your case without an attorney.
MAKE SURE YOU KNOW WHO WAS AT FAULT

Florida is a no-fault state, but motorcyclists do not get the advantage of PIP insurance to protect them in an accident. This means it is imperative that you are able to prove the other driver in an accident was at fault in order to win a personal injury claim against them.
Unfortunately, it is not always clear-cut who was at fault in an accident. The other driver's insurance company may fight to turn the responsibility on you and cast doubt on your assertion that you were riding responsibly. Having an expert motorcycle accident on your side can help your chances of proving fault and winning a successful outcome.
HOW BAD WERE YOUR INJURIES
The severity of your injuries may play a factor in whether or not you seek legal representation. In accidents where minor injuries or property damage occurred, simply filing a claim with your insurance company or that of the other driver may be enough.
But what about motorcycle accidents where severe injury or even death occurred?
The reality is riding motorcycles is extremely dangerous. Motorcycles do not offer the riders the protection afforded by a car in the event of a crash. This means motorcyclists often suffer more serious injuries when they are involved in an accident than people who were in a car.
Severe injuries translate to more expensive medical bills, more pain and suffering damage, and potentially more time away from work. This can make winning a case against an insurance company on your own more difficult as they will fight tooth and nail to keep from paying a larger settlement. Speaking with an experienced personal injury attorney can help you understand your legal options.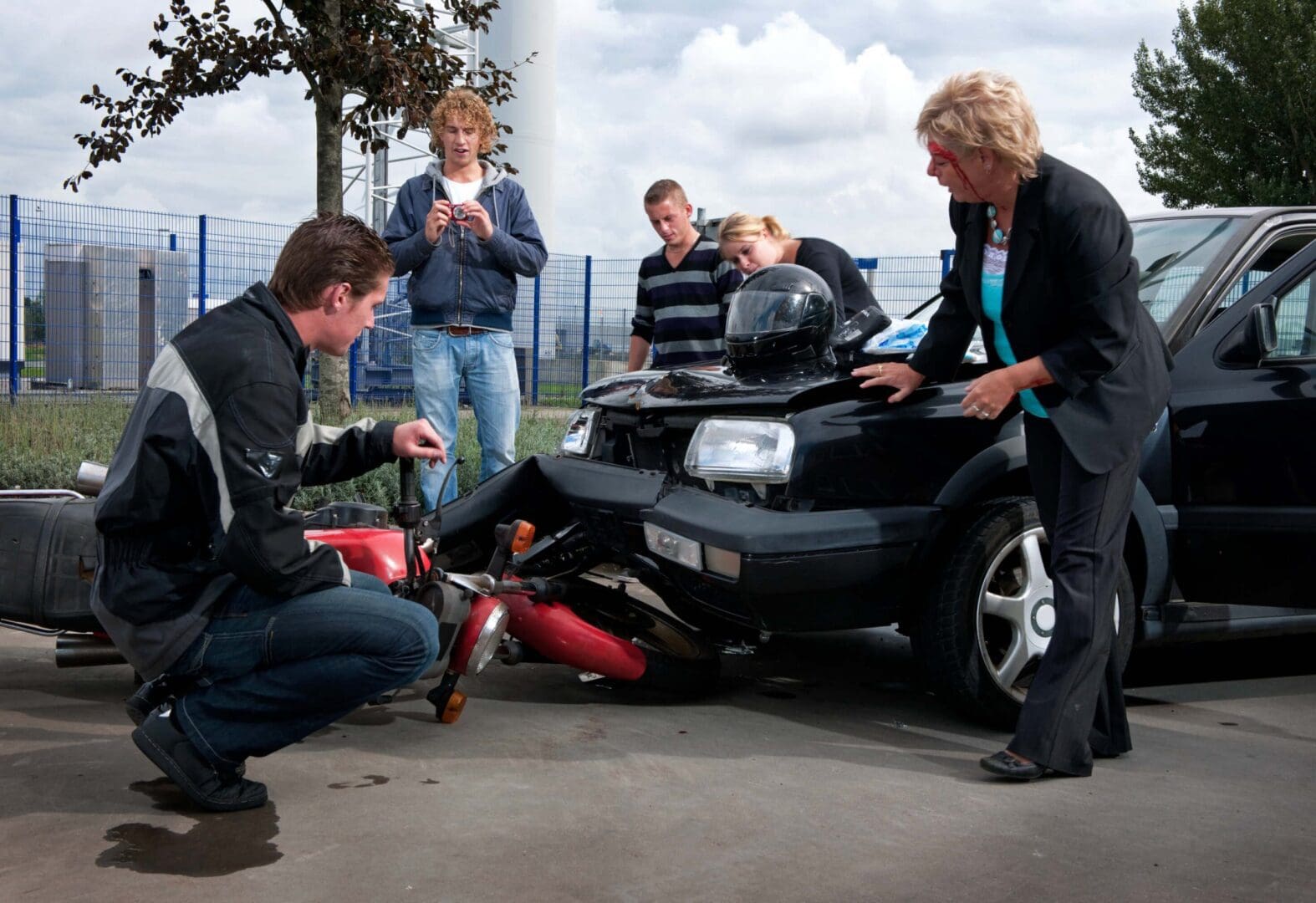 NEGOTIATING AND ACCEPTING A SETTLEMENT

Without the assistance of a motorcycle accident lawyer, you will have to negotiate a settlement on your own. People who are unfamiliar with state laws surrounding personal injury may find this to be intimidating. Here are some things to keep in mind when negotiating or accepting a settlement:
BEWARE OF THE INITIAL OFFER

Insurance adjusters will almost always offer you a low initial offer to start negotiations. You could be missing out on the compensation you are owed by accepting this first offer. It is always a good idea in negotiations to counter with an offer that is on the higher end of what reasonable compensation would be. This will give you room to negotiate for a more appropriate settlement.
The insurance companies will typically present you with their own counter-offer next. Take time to consider their offer carefully before accepting or continuing the negotiations. A settlement negotiation will usually carry on like this until a mutually accepted amount is reached.
"PAIN AND SUFFERING" DAMAGES

Motorcycle accidents can cause a lot of pain, suffering, and emotional damage beyond that of just injuries. These factors should be considered in a settlement offer in the same way they would be if the claim goes to trial. A settlement offer that does not include compensation for your pain and suffering may be inadequate.
Personal injury lawyers can help you understand these damages and how they apply to your case. You may find that you are entitled to a larger settlement than you are being offered even if your injuries are minor.
YOUR CLAIM COULD GO TO COURT
Any motorcycle accident claim has the potential to go to court. If you are unable to agree upon a settlement amount outside of court, your case could go to trial where a jury will determine the outcome. This is important to consider when evaluating a settlement offer. A settlement out of court can help you avoid court fees and court appearances but you want to be sure you are still getting fair compensation.
You must be able to sway the opinions of the jury in order to win a case in trial. People who are representing themselves may find this difficult, especially when insurance companies have lawyers on their side working against you.
WHY YOU SHOULD HIRE A MOTORCYCLE ACCIDENT ATTORNEY

If you have suffered severe or long-term injuries after a motorcycle accident, it is in your best interest to hire professional representation. The bottom line is that people who hire personal injury lawyers on average earn settlements that are 3 ½ times larger than people who do not have legal representation.
Here are some reasons why hiring a motorcycle accident attorney can help your case:
PROFESSIONAL REPRESENTATION

Motorcycle accident lawyers are professionals who specialize in interpreting and navigating personal injury laws regarding motorcycle accidents. The attorneys at Calandro Law have years of experience handling motorcycle accident claims and getting our clients the compensation they deserve.
MOTORCYCLE ACCIDENT ATTORNEYS WILL ADVISE YOU WITH THEIR EXTENSIVE KNOWLEDGE OF THE LAW

The wealth of knowledge and understanding motorcycle accident lawyers have regarding the laws that will govern the proceedings of your case can prove invaluable. Your attorney will be able to advise you in negotiations and help you navigate the nuances of a personal injury case.
Attorneys are familiar with the tools and tricks insurance companies will use to try and discredit your claim. They can help you avoid common pitfalls people without legal representation fall victim to.
YOUR ATTORNEY WILL DO THE WORK FOR YOU

Another advantage to hiring a motorcycle accident lawyer is that they will do all the heavy lifting for you. Your attorney can file your claim on your behalf, represent you in negotiation hearings, and represent you in court.
YOUR ATTORNEY IS YOUR BIGGEST ADVOCATE

Your attorney is representing you in a motorcycle accident lawsuit and has your best interest in mind as they negotiate on your behalf. They only win if you win. The Riverview attorney at Calandro Law will be your biggest advocate in your claim and will go to bat for you to ensure you and your family are taken care of after a horrific motorcycle accident.