SHOULD YOU SETTLE OR HIRE A
PEDESTRIAN ACCIDENT ATTORNEY
GET A FREE LEGAL CONSULTATION
A pedestrian being hit by any type of vehicle can lead to serious bodily harm and injuries that may require expensive medical treatment to recover. As a pedestrian injured by a vehicle, you may think you have a slam dunk personal injury claim but this is not always the case. The choice of whether or not to hire a pedestrian accident attorney in your case is a personal choice but it is an important decision to consider.
The unfortunate reality is that pedestrians do not often fare well after an accident involving a motor vehicle. However, this does not mean that insurance agencies will view the pedestrian as the victim. An insurance adjuster could try and shift the blame onto the pedestrian and put them at fault for the accident.
The Florida pedestrian accident attorneys at Calandro Law in Riverview understand this all too well. If you have been the victim of a pedestrian accident, hiring an experienced personal injury lawyer can give you the legal advice and guidance you need to win a pedestrian accident claim.
We offer FREE case evaluations which can help you determine whether or not you have a strong case to pursue, even if you decide not to hire an attorney. The following article hopes to offer valuable information that can help you decide if hiring a pedestrian accident lawyer is the right decision for your case.
IMPORTANT FIRST STEPS AFTER A PEDESTRIAN ACCIDENT

DOCUMENT EVERYTHING

Detailed and proper documentation of an accident and the factors involved is key to any type or personal injury claim. Pedestrian accidents are no exception. It is crucial for your claim to gather as much information regarding the accident as possible if you are medically well enough to do so.
Try to take pictures of the scene of the accident. You should look to get pictures of any property damage, the license plate number of any vehicle involved, and photo documentation of any visible injuries sustained.
Be sure to grab the names, contact information, and insurance information for all persons involved in the accident as well. You should also try and get the names and contact information for any police officers, fire fighters, or emergency responders that are called to the scene. First responder testimony could be very important if your case goes to trial.
FILE A POLICE REPORT

Not every accident calls for a police report. However, some states do require a police report to be filed after an accident where someone was seriously injured or killed.
You should consider filing a report if you have been seriously injured after being struck by a vehicle. A police report on the record can help strengthen the validity of your case. Police reports can be filed at the scene if an officer arrives in person or you can file a police report with the local authorities later. It is important to get a copy of the report for your own records once it has been filed.
GET MEDICAL ATTENTION ASAP!

Pedestrian accidents often end badly for the pedestrian. They are known to lead to serious bodily harm due to the fact that pedestrians have no protection around them during an accident. This is why it is vitally important to seek medical attention immediately after an accident, even if you do not feel injured.
Some injuries, such as broken bones or head injuries, are very apparent and leave no doubt as to whether or not you need medical attention. However, some injuries may not be so noticeable at first but can still lead to major issues.
Visiting a doctor after your accident can help you determine the extent of your injuries and if you had any injuries you were not aware of. Your doctor can get your treatment started right away and let you know what to expect going forward. The documentation of your injuries and the amount of treatment you will need will be very important in filing a pedestrian accident claim.
BE AWARE OF FLORIDA'S STATUTE OF LIMITATIONS
Understanding your state's statute of limitations regarding personal injury claims is important if you need to file a claim. In Florida, the statute of limitations for filing a personal injury lawsuit is four years from the date of the accident. An attorney can help you file a claim outside of these limitations in special situations but it is not a wise decision to wait. Victims have a better chance of winning a pedestrian accident claim when the claim is filed closer to the date of the accident.
WHAT ARE YOUR LEGAL OPTIONS IN A NO-FAULT STATE LIKE FLORIDA?
Florida is a no-fault state when it comes to accidents involving cars. Every Florida driver is required to carry personal injury protection (PIP) policy worth up to $10,000.
What does this mean to you?
If you are a pedestrian struck by a vehicle, you cannot initially file a claim against the driver that hit you. You must first file a personal injury protection claim. Pedestrians that own a car and have Florida's mandatory PIP insurance will be covered through their own policy. On the other hand, pedestrians that do not have their own PIP policy will be covered by the driver's policy.
Injuries suffered during a pedestrian accident are often severe. Your medical bills alone may exceed what is granted through a personal injury claim. A pedestrian accident lawyer can help you file a claim against the at-fault party for any remaining damages.
PURSUING A PEDESTRIAN ACCIDENT CLAIM ON YOUR OWN IN FLORIDA

Individuals are allowed to file their own pedestrian accident claims and to represent themselves in the lawsuit in Florida. The claim must be filed within the statutes of limitations though. However, you should consider a few important factors before pursuing your case without experienced legal representation.
WHO WAS AT FAULT?

The most important question in any pedestrian accident case is: Who was at fault? PIP insurance will be able to help cover your expenses after an accident. However, pedestrians often suffer severe injuries after being hit by a vehicle that could lead to damages that go beyond the threshold of a PIP policy.
If you need to pursue a claim against the at-fault party, you must be able to prove that they were, in fact, responsible for the accident. This can be more difficult than you might think without the help of an experienced pedestrian accident lawyer.
Insurance adjusters or defense lawyers will work to put the blame on you and leave you responsible for paying your medical bills and other expenses. Having professional representation on your side can greatly improve your chances of winning a lawsuit and collecting damages.
WHAT WAS THE EXTENT OF YOUR INJURIES
The extent of your injuries can be a determining factor on whether or not you should hire a personal injury attorney. In accidents where only minor injuries or property damage was sustained, you may only need to file a claim with your insurance company or that of the driver that hit you.
But what about pedestrian accidents where severe injury or even death occurred?
The unfortunate reality is pedestrians often suffer the worst in an accident involving a vehicle. Pedestrians are not afforded the protections a vehicle offers in the event of a collision. This means pedestrians usually have higher medical bills after an accident and may have permanent changes to their ability to work and enjoy life.
Insurance companies will often fight even harder to put the blame on you if your injuries were severe because that means you will need a bigger settlement to cover damages. It can be difficult to win a case involving severe injuries on your own without the aid of a pedestrian accident lawyer.
Speaking with a pedestrian accident attorney can help you determine the amount of compensation you are entitled to for your injuries.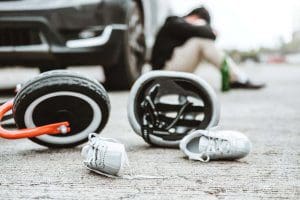 NEGOTIATING AND ACCEPTING A SETTLEMENT

Individuals that choose to pursue an injury claim without a lawyer will have to negotiate with the insurance companies on their own. This can prove a difficult task for people who are unfamiliar with state laws surrounding personal injury. Here are some tips to keep in mind when negotiating or accepting a settlement.
THE INITIAL OFFER
Remember that insurance adjusters are paid to try and save insurance companies as much money as possible. Adjusters will usually make a low initial offer in the hopes that you will accept the offer and avoid seeking further damages. Be warned though, accepting the initial offer could mean you are missing out on the full compensation you are owed for your pain and suffering.
It is usually a good idea to counter the initial offer with an offer that is towards the higher end of what reasonable compensation would be. This will afford you some room to negotiate for a more fair offer.
The insurance companies will typically respond with another counter offer and negotiations may proceed in this fashion until a suitable settlement is reached. Take time to consider each offer carefully before accepting or negotiating further. Be sure to consider what your future medical expenses and the impact to your ability to work will be.
"PAIN AND SUFFERING" DAMAGES

A pedestrian accident may lead to pain, suffering, and emotional damage that goes beyond your physical injuries. These damages should be taken into account when considering a settlement offer. You should not accept a settlement offer that does not factor in compensation for your pain and suffering.
A pedestrian accident attorney can help you understand these damages and how they apply to your case. It may come to light that you are owed a larger settlement than you are being offered.
YOUR CASE COULD GO TO COURT

Any personal injury claim has the potential to go to court. When negotiations outside of court are unsuccessful, the case may move to trial where a jury will determine the outcome of your claim.
You should factor in the cost of going to court as you consider settlement offers. Going to court will come with court fees and court appearances. However, it is important that you are fairly compensated for your injuries.
You will need to represent yourself in court if you have not hired an attorney to represent you. This means you will need to sway the jury to your side in order to win your claim. People who are unfamiliar with the law may find this challenging, especially when insurance companies have defense lawyers representing them.
You must be able to sway the opinions of the jury in order to win a case in trial. People who are representing themselves may find this difficult, especially when insurance companies have lawyers on their side working against you.
WHY YOU SHOULD HIRE A PEDESTRIAN ACCIDENT ATTORNEY

The reality is that hiring a pedestrian accident attorney to handle your case will give you a much better chance for success. People who hire personal injury lawyers earn on average 3 ½ times larger settlements than people without legal representation.
Here are some reasons why hiring a pedestrian accident attorney can help your case:
PROFESSIONAL REPRESENTATION

Personal injury lawyers spend years learning how to interpret and navigate state laws that govern personal injury cases. The pedestrian accident attorneys at Calandro Law have a wealth of professional knowledge and experience in fighting insurance companies to get our clients the compensation they are owed.
PEDESTRIAN ACCIDENT LAWYERS OFFER EXPERT ADVICE

Insurance companies and their legal teams will use a number of tricks and tools to discredit your claim and avoid large payouts. Pedestrian accident attorneys are all too familiar with these tactics and can help advise you on how best to proceed in your case. Your attorney can help you avoid the common mistakes many people without legal representation make.
LET YOUR ATTORNEY DO THE HEAVY LIFTING

Your attorney will do all the heavy lifting for you in a pedestrian accident case allowing you to focus on your recovery. A pedestrian accident lawyer can file an injury claim on your behalf, represent you in negotiation hearings, and represent you in court.
The lawyers at Calandro Law will put in all the extra effort to make sure you have a strong case. We will work with investigators to recreate the accident to gather as much information as possible. Our legal team will also work closely with your medical providers to put together detailed documentation of your injuries and the treatment required.
YOUR LAWYER HAS YOUR BEST INTEREST AT HEART

Your lawyer is hired to represent you in a pedestrian accident lawsuit. This means that they have your best interest at heart and will work hard to get you the best possible outcome. The Riverview lawyers at Calandro Law will get in the legal ring to fight for your compensation. Our top priority is making sure you and your family are taken care of after a serious accident.