SHOULD YOU SETTLE OR HIRE A
RIDESHARING ACCIDENT ATTORNEY?
GET A FREE LEGAL CONSULTATION
It's hard to predict what kind of ridesharing driver you will get with the 'gig' economy, even if they have a good rating on the app. If you're lucky, you might get a driver who knows the area well and is courteous, but you might also encounter a driver who is unfocused or under the influence. If you're injured as a result of driver negligence in Riverview, you should think about hiring a ridesharing accident lawyer.
Rideshare accidents are complicated due to numerous parties involved, including the drivers, the rideshare company, and passengers. A rideshare accident attorney can provide you with information and advice regarding your rights as a passenger if you weren't at fault for the accident. Whether you need legal advice or representation, Calandro Law is prepared to assist you.
PERSONAL INJURY STATUTE OF LIMITATIONS IN FLORIDA
Car accidents do not constitute criminal offenses (most of the time), which means that you and the civil court are responsible for getting justice and paying for damages. In order to hold your driver and their ride-sharing company responsible for your injuries, you will have to file a personal injury lawsuit. Ideally, you should hire a personal injury attorney and file a lawsuit before the statute of limitations for your injuries expires. In the event you wait too long, the accident will no longer be considered liable and you will not be entitled to compensation.
Therefore, if you have been in an Uber or Lyft accident, you need to file a claim before your time limit expires. In all states, there is at least a one-year statute of limitations for personal injury claims. During this time, injured persons have the opportunity to rebuild their lives and begin the recovery process before initiating legal proceedings.
NAVIGATING THE INSURANCE PROCESS IN RIVERVIEW
The insurance process following an accident in an Uber can be difficult, to say the least. New requirements for Uber insurance coverage were recently implemented in Florida, including the following:
Those that are online and available to provide rides to passengers but do not have passengers must have bodily injury liability coverage of $50,000 ($100,000 for multiple injured parties).
If a rideshare driver has a passenger, he or she must have a $1 million bodily injury liability policy
Uber or the driver can provide this coverage. Under the new law, Uber will carry such policies in case its drivers are uninsured or underinsured. When an Uber car is involved in an accident, you'll need to figure out who has what types of insurance and with whom you should file a claim.
There is a possibility that you will have to file a number of insurance claims with different policies, such as the driver and Uber. Due to this, you would benefit from using the services of an experienced rideshare accident attorney who can assess the situation and help you prepare and file a claim to pursue compensation.
MAKING A STRONG RIDESHARING ACCIDENT CLAIM

The key to a successful Uber or Lyft accident claim is getting started as soon as possible once you have started the recovery process. You will have fresh evidence, including your injuries, which is what a personal injury claim is all about. Nonetheless, if you chose not to file your claim right away, your next best choice would be to collect all the evidence you need and build a strong case before going to court. You should hire a personal injury lawyer who is experienced with ridesharing cases. Ideally, you should hire a personal injury lawyer who has worked on similar cases. In filing a liability claim, they will be able to provide you with all the information you need and handle the legal paperwork for you.
In addition to the police report of the crash scene, you will need to collect your own medical records and other evidence from the crash. If you have photos taken before you recovered, these can be very useful in your case and should be gathered together with all of your medical records. Last but not least, you'll need medical bills, recovery services, and lost time from work records to ensure that you're fully compensated for the expenses associated with the rideshare accident.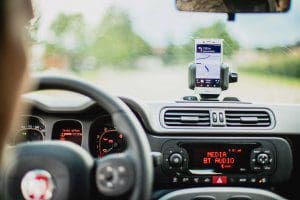 DETERMINING WHAT YOUR CLAIM IS WORTH
The majority of car accident victims believe filing a claim involves adding up their medical bills and asking the insurance company to reimburse them. Most victims unfamiliar with the legal process will underestimate the value of their personal injury claim. Your car accident damages may include so much more than just the medical bills for injuries Damages may include:
ALL MEDICAL COSTS

Medical costs can include more than just doctor's bills. Transportation to and from physical therapy sessions, medications, and other emergency situations can also be included. The costs of renting crutches or a wheelchair, for example, should be covered. If you drove to and from all of your medical appointments, you can also seek compensation for gas and mileage. Last but not least, do not disregard the possibility of future medical treatment. There are some injuries that require ongoing treatment for many years after the claim is settled, which means you will need to estimate your future medical expenses.
LOST INCOME

You may not be able to work as a result of car accident injuries for a period of time. Perhaps you will have to stay in the hospital or rest at home for a few days or weeks depending on your injuries. It may also be difficult for you to perform your usual job duties. Both cases can result in significant income losses after an accident. If you suffer long-term impairments as a result of your rideshare accident, you may never be able to return to your previous job or your previous income level. Loss of earnings in the future may also be considered in the value of your claim.
PAIN AND SUFFERING

This type of loss is intangible and harder to estimate. Accident victims often experience considerable physical pain as a result of their injuries. You may be unable to do your favorite activities if you experience such pain, and even painkillers may hold serious risks for your well-being. Mental and emotional health can also be affected by pain and limitations caused by injuries. The pain, suffering, and lasting injuries that resulted from the crash can be compensated.
Calandro Law uses experts to ensure we are properly calculating the damages we claim for you. You may end up accepting a settlement offer that is much too low if you try to calculate the value of your case yourself. One more reason why having a skilled attorney on your side is crucial.
WHEN TO CONSIDER SELF REPRESENTATION

A person can certainly represent themselves in a personal injury claim if the results of the accident are favorable. If you have experience handling your own legal matters, and capable of and willing to stand up for yourself, you will have a distinct advantage.
It helps to consider two key factors when choosing whether self-representation is the best option for you.
HOW BADLY WERE YOU HURT?

It's best to consult an experienced injury attorney after being involved in a serious car accident, undergoing extensive medical treatment, and suffering significant pain and suffering as a result of your injuries. Whenever losses ("damages" in legalese) are significant, the stakes are higher for everyone involved: you, because you want to be compensated fairly for your injuries, and the defendant (usually an insurance company), because they don't want to pay a large settlement. In these circumstances, you want someone who has experience with the often hostile back and forth of litigation.
IS IT CLEAR THAT THE DRIVER WAS AT FAULT?
It might be easier on your own to prove fault, and to get a satisfactory settlement, if the defendant is clearly to blame for your accident and you have witnesses who will testify on your behalf. But it could be tricky when dealing with the driver, the company, and their insurance.