Truck driver fatigue is one of the leading causes of traffic accidents involving large trucks. A study by the Federal Motor Carrier Safety Administration (FMCSA) shows that up to 13 percent of commercial truck drivers are fatigued during the time of a crash. Individually or in combination, all these contributing factors affect truck drivers all too frequently. In the U.S., the issue of too little sleep is a major concern for all drivers. In 2013, the last year for which statistics are available, drowsy driving caused 72,000 crashes, 44,000 injuries, and 800 deaths. However, the Centers for Disease Control and Prevention (CDC) estimate that these numbers are significantly understated and that drunk driving could be responsible for at least 6,000 deaths per year.
The National Highway Safety Transportation Administration (NHTSA) reported that 45 people died in truck accidents in Florida in 2017. Based on Florida Department of Highway Safety and Motor Vehicle information (FLHSMV), 225 truck accidents resulted in incapacitating injuries, while 771 were non-incapacitating. There are too many accidents caused entirely or partially by trucker fatigue, such as collisions, overturned trucks, jackknifed trucks, or spilled cargo. Fatigue impairs many functions vital to drivers' performance, such as vision, reaction time, coordination, and judgment. The consequences of a head-on collision are devastating if a driver falls asleep while driving. He may also miss checking his blind spot before changing lanes. There are many blind spots on trucks, which can lead to side-swipe collisions.
It is the driver's responsibility to operate their vehicles safely and responsibly. This includes taking care not to get too tired to drive or drowsy. It is negligence if they fail to operate the truck responsibly or safely and cause an accident that is harmful to people or property. If you've been in an accident, caused by a fatigued truck driver, contact us at Calandro Law located in Riverview Florida. We can help you prove negligence and get you compensation to cover damages. Continue reading to learn more about truck driver's fatigue and what to do if you suspect a fatigued truck driver on the road.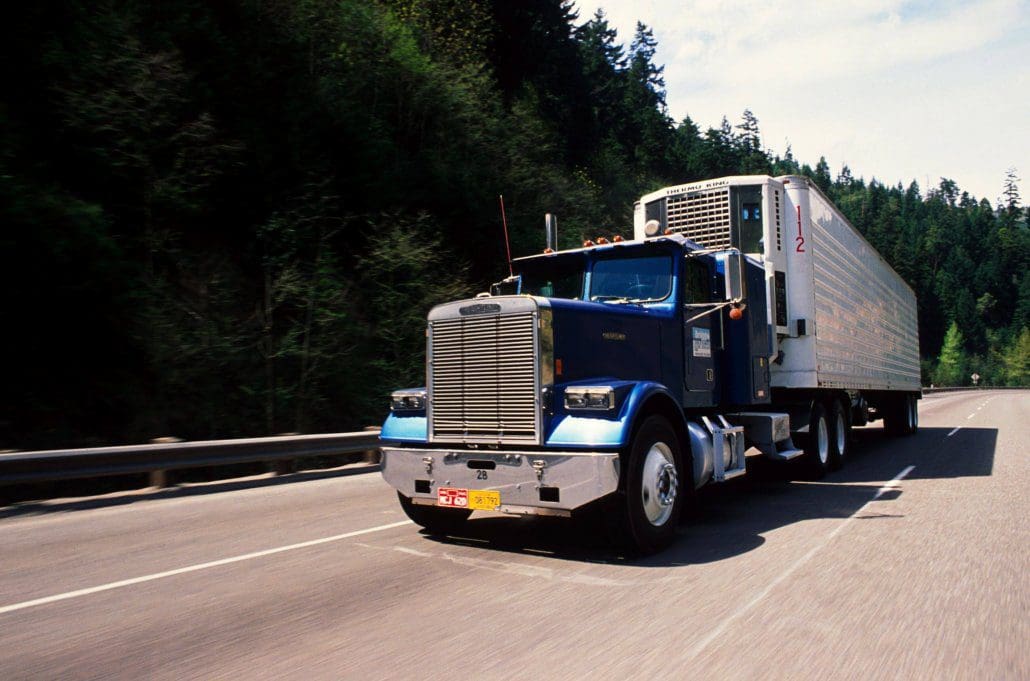 What Causes Truck Driver Fatigue?
Truck driver fatigue is caused by many factors, and some may never affect a truck driver while others may be more prone to drowsiness. Among them are:
The driver may not get the required seven hours of rest as a result of worries about his load, medical issues, financial issues, or because he is a light sleeper and the traffic keeps him awake.
The stress of being stuck in traffic due to construction or a car accident.
Prescription medications.
One driver may not feel drowsy with a particular medication, whereas another could feel drowsy even if the medication has no side effects of drowsiness.
Heavy traffic.
Having to watch out for other drivers who are careless on the road, such as those who pass a truck and pull in front of it too close because they don't realize trucks need more space to stop.
Various sleep disorders, including sleep apnea.
A driver whose circadian rhythm suddenly kicks in in the middle of the afternoon, causing the driver to crash.
Drivers may be better able to stay alert by being allowed to manage their time. They would be able to take naps when they need them and stop whenever they need to.
Truckers and Hours of Service
For the purpose of preventing drivers from becoming fatigued, the Federal Hours of Service Regulations were implemented. The problem with that, however, is that people have very different sleeping patterns. When a driver had no problems driving for eight hours today, he or she might have trouble driving six hours tomorrow, even if they slept for at least seven hours between trips. The driver's hours of service regulations are designed to ensure each driver gets enough sleep, but just because they aren't driving does not mean they're sleeping.
When a driver has to pull off the road in a seedy or noisy area of town, they may not want to sleep, but because of the electronic log, they cannot drive another 15 or 20 minutes to find a safe place to sleep. It's much less likely that that driver would cause a car accident if they were awake for 20 minutes over the eight hours as opposed to only getting interrupted sleep over the fear of being robbed.
Furthermore, minor traffic is a lot less stressful than heavy traffic. When a truck driver drives for eight hours on a section of highway with little traffic, he or she is less likely to be fatigued than a driver who spends two hours stuck in traffic.
Because of the hours-of-service regulations, truckers are sometimes not able to create their own schedules, or they risk getting massive fines. A driver feeling tired at the end of six hours should be able to stop, but cannot because he or she is on a schedule and cannot drive after a certain number of hours without making a 10-hour stop.
Sleeper berths have to be occupied for eight of the 10 hours. Taking a one-hour nap instead of using those last two hours will result in the load not making it to its destination on time, and it may have to wait until the next day since the driver must stop after a set amount of time. When drivers miss deadlines, their pay is often docked.
When You Suspect Truck Driver's Fatigue
Tiredness is often the sole or contributing cause of truck collisions and rollovers since these common truck accidents can be the result of poor judgment or slow reflexes.
A truck can also weave or speed before an accident, and fatigue can contribute to those behaviors. Out-of-control trucks and trucks driving into oncoming traffic are signs that a driver is asleep. The tendency to make extreme errors in judgment, such as pulling out into oncoming traffic, may also be a sign of fatigue.
Additionally, if you are involved in an accident and the driver stops and exchanges information with you, you may notice fatigue or other associated symptoms. Tired or disoriented appearance, stumbling or hesitant speech, and bleariness are all signs of fatigue.
Two things you should do if you see signs of fatigue. The first thing you should do is mention these signs to the police or other officer who is coming to make a report. Although police reports don't prove that a driver was fatigued, they may indicate that you were concerned about driver fatigue at the scene.
The second step is to consult a truck accident lawyer if you or a loved one were injured or killed because of the accident. It is often necessary to investigate the causes of truck accidents since they are complex. Truck driver fatigue should be considered as a possible cause. Driver fatigue can be investigated using a variety of methods by an attorney and his or her investigative team
Damages You May be Entitled to
It is possible to recover damages for injuries you suffer in an accident if it was not your fault. A partial fault determination may result in a percentage of damages that may include economic, non-economic, and punitive damages.
Economic Damages
Costly damages fall under this category. They include:
Accident-related medical expenses.
The wages you lost because of the accident.
Costs associated with future surgeries, therapy, and doctor's appointments. Due to the fact that the damage amount is unknown, they can also be considered non-economic damages.
Wages you will lose in the future if you are incapacitated for a long period of time or permanently disabled. Because they are estimated, they may also qualify as non-economic damages.
Repair or replacement of personal property. Damage to your personal items, vehicle, or real estate, that needs to be repaired or replaced.
Non Economic Damages
The value of noneconomic damages is based on estimates prepared by insurance companies and attorneys. Some of them include:
Pain and suffering, if you have long-term or permanent injuries.
Lack of companionship if you cannot take your children to activities or take time to go on outings.
The inconvenience of having to hire someone to help you with tasks you can't do yourself due to injuries. Tasks like cooking, cleaning, mowing the lawn, and other home maintenance are some examples.
You may suffer from a loss of consortium if you cannot be physically intimate with your spouse.
When you lose usage of one or more of your limbs as the result of an accident.
Punitive Truck Accident Damages
Punitive damages, which are awarded only if the at-fault driver has shown gross negligence, are the third type of damage you may be entitled to receive. It is possible that a driver's company encouraged negligence. As a result, the company may be required to pay punitive damages, either in addition to or instead of what the driver pays.
Hire an Experienced Truck Accident Attorney
An experienced attorney can help you determine if you are entitled to damages. In truck accidents, there are often many parties involved, making the case rather complex. Besides the driver who may be responsible, the company where the driver works, the owner of the truck, the dispatcher, and even the manufacturer of the goods may be responsible for some or all of your damages. Our team at Calandro Law is prepared to help you navigate the claim process and reach the fair settlement you deserve.
Schedule a free consultation today by calling us at (813) 563-6463 or filling out the form on the right side of the page.