HITTING A PARKED CAR:
IS THE DRIVER ALWAYS AT FAULT?
GET A FREE LEGAL CONSULTATION
Collect Critical Evidence From Your Accident With These Expert Legal Tips
It is usually quite easy to determine who is at fault for hitting a parked car. Hitting a parked car is generally considered to be the fault of the driver that hits it. It is usually the driver's fault because the car was parked and not moving, so the parked car did not have time to move out of the way before the accident occurred. The driver who hits a parked vehicle, on the other hand, will usually be able to move out of the way.
In order to avoid a collision, drivers must pay attention to the road ahead of them. This gives the driver the chance to spot the parked car and avoid it. It goes without saying that every rule has some exceptions. You cannot address every one of the possible outcomes of hitting a parked car since there are so many.
When it comes to determining fault after a car accident, most states follow the general principle of comparative negligence. The owner of the parked car should be compared to the driver who struck it, and the person who could have avoided the accident should be held responsible. A proportion of the responsibility will be assigned to both if either could have prevented the accident.
In some cases, it may be fair to ask, "Can a parked car be at fault?". A car accident attorney can help answer any legal questions you have after a collision and advise you on what your rights are.
In this article, we'll discuss what you should do if you hit a parked car or if you are hit. We will also cover scenarios of parking lot accidents and how fault is determined.
PARKED CAR ACCIDENT SCENARIOS
There is always the danger of being hit by another vehicle when you are parked at the side of the road while your car is having trouble or you have a flat tire.
A scenario that arises often is when there is not enough room on the side of the road for a car to be parked safely and the road is narrow. If an oncoming vehicle is forced to pass too close to you or doesn't judge the passing clearance well enough, you are most likely to be hit at the back or side by a passing vehicle. Cars parked on narrow, winding roads with heavy traffic, tractors, and RVs or vehicles towing trailers pose the greatest risk in an emergency.
In some cases, you may have to park your car on a bridge, and this can also be dangerous.
Hitting a parked car in a parking lot is usually not as serious of an accident, fortunately. The speed of the offending vehicle in a parking lot accident is typically much lower and is likely to cause less damage.
PARKED CAR ACCIDENT DAMAGES THAT MAY OCCUR
In the event that your parked car is hit, the result could range from merely being startled and suffering scratches to being totally wrecked and in the hospital. There are many factors that affect the damage, including the location of the collision, the speed of the other vehicle, and how badly you and other passengers were hurt.
The one advantage of a parked car accident is that if you weren't parked illegally or without parking lights at night, you would be able to prove the accident was caused by the other driver's negligence and not your own. In case you choose to sue the other driver's insurer for compensation, you may be entitled to the following damages:
Injuries to your body and others inside the car if you were in the car when it was hit
Side panel scratches and dents
Fender damage
Bumper damage
Bent or smashed side mirror
Broken side windows
Shattered windshield
Smashed lights
Damage to tires and wheels
Engine damage if the impact was in the front
In a state like Florida where there is no fault, you would likely not be entitled to compensation for injuries, but you may still be entitled to compensation for the damage to your car.
IF YOU HIT AN ILLEGALLY PARKED CAR
It is possible that both drivers could be at fault in circumstances involving illegally parked cars: the one for violating parking regulations and the other for negligently striking the parked vehicle. Take the following steps after hitting an illegally parked car:
STOP AND LEAVE YOUR INFORMATION
Whenever you are involved in an accident, you are legally required to stop. Stop as close as possible to the collision site. Investigate whether anyone has been injured. Please call 911 if there appear to be injuries or damage exceeding $750 in value. Await the arrival of the police.
A police officer will gather your name, address, and insurance information and pass them on to the other driver. It is still imperative that you report your collision, even if you do not feel it was serious enough to be reported to the police.
Find out who owns the parked car. You can leave a note on the driver's vehicle if you cannot get in touch within a reasonable period of time – somewhere noticeable. On the note, include your full name, phone number, and insurance information.
If you damage someone else's car and leave the scene without reporting it, you commit a second-degree misdemeanor, which is punishable by heavy fines, suspension of your license, and up to 60 days in jail.
CALL THE POLICE FOR AN OFFICIAL INVESTIGATION
If you think the other driver may share some blame for illegally parking his or her car, you should contact the police in any event, even if the accident is minor. If the driver violated the parking regulations, the police can ticket them and will investigate the crash.
Your insurance company may be able to gather evidence to prove the other driver's partly at fault, such as photos of the no parking sign or the tire markings on the other driver's vehicle. It could help you convince an insurance company that you are not at fault during your claim if you have an official police report.
DETERMINING FAULT IN A FLORIDA PARKING LOT ACCIDENT
It will be crucial to determine who is at fault if a parking lot accident leads to serious injury. Florida is a no-fault state, but serious injuries that exceed the PIP coverage come under the state's responsibility. Here are the four most common types of accidents and who are generally at fault:
TWO DRIVERS BACKING INTO ONE ANOTHER
There is no right of way between the two cars in this instance since both vehicles are moving. Additionally, both drivers must look before backing up. For this reason, you will probably share responsibility if you do not demonstrate clear and specific negligence on the part of the other driver.
A DRIVER BACKING INTO AN ONCOMING CAR
A driver in the traffic lane has the right-of-way in this type of accident where both cars are moving. In addition, the driver backing out must wait until it is safe to do so. As a result, the car backing out will likely be at fault in the majority of cases.
TWO CARS PULLING INTO THE SAME SPACE
There is a good chance that both drivers will be held to some degree of blame in this case. However, it is important to look at who had the right of way in order to determine fault. In the same way that a driver turns into oncoming traffic on the road, they must yield to oncoming vehicles. Thus, the driver who turned left will likely be found to be at fault for the accident. However, this may vary. For instance, if the car turned right suddenly into oncoming traffic.
A CAR REAR-ENDING ANOTHER AT A STOP SIGN
There is only one moving car in this instance, so the driver who rear-ends the other car almost always is at fault. When an accident occurs and someone is harmed by another person's improper behavior, it becomes even more important to prove negligence.
You can avoid most parking lot accidents by staying alert, buying yourself time to react, and anticipating that pedestrians may dart into the path of your car. You should also maintain a reasonable distance from other vehicles.
HOW DO INSURANCE COMPANIES DETERMINE FAULT?
An insurance company's attorneys perform discovery. As part of this procedure, they may send a demand letter to the location of the parking lot – or to any other structure nearby that is unobstructed in its view of the accident site – requesting that it preserve surveillance video footage of the accident. Demand for such a request is essential. Otherwise, businesses continue to record daily videos over old ones.
Depositions can also be conducted by insurance companies as part of the discovery process. A deposition can take several hours and can involve the insurer's lawyer asking questions from people who witnessed the accident. Under penalty of perjury, the person being interrogated must answer truthfully under oath. Additionally, the insurance company may discover if there were any witnesses during this process. In such a case, a grocery store employee may be deposed if you mention that they witnessed everything that transpired.
Also, insurance companies will try to minimize their liability. In Florida, comparative negligence applies. So if you were partially responsible for the damage, your percentage will be deducted from whatever you can recover. As an example, let's say a driver did not look in their rearview mirror before backing up into you. However, you were partially backed up, yet fully stopped, because you received a text message. The fault lies with both drivers in such a case. In addition, if your bumper costs $15,000, your own liability will reduce your recoverable amount by half.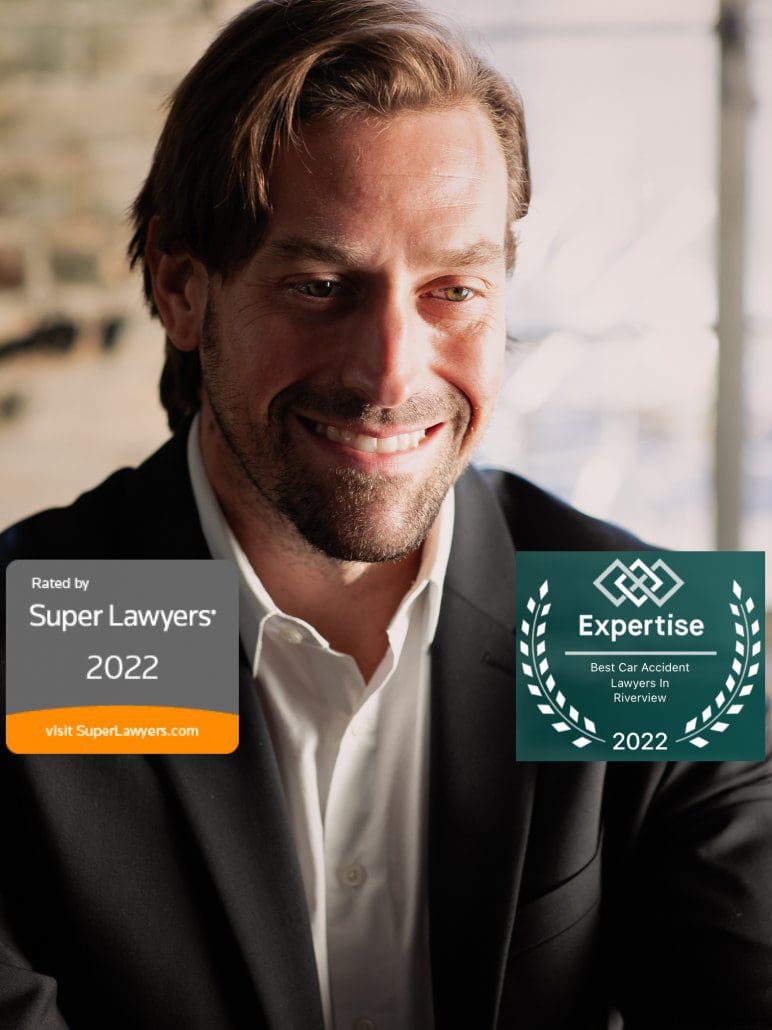 OUR RIVERVIEW CAR ACCIDENT LAWYERS CAN HELP
dent attorney can help you gather the evidence you need to prove fault after an accident. Additionally, your lawyer can negotiate with insurance companies on your behalf and represent you in any legal proceedings. Let the experienced lawyers at Calandro Law do the heavy lifting for you and get you the compensation you are owed.
If you have recently hit a parked car or your parked car has been hit, contact Calandro Law for a free case evaluation. Our team is prepared to investigate who could be at fault and we'll help you recover due to compensation.